On Pandan Island, diving is a very popular thing to do. There are many dive sites around the island, everything from shallow coral gardens to deep drops. There is something for all divers. There are diving centres that are fully equipped with everything you could need to make your dive and courses for everyone, beginners and masters.
There are diving centres that organize diving courses in three languages; English, French and Tagalog. Nitrox dives and courses are available.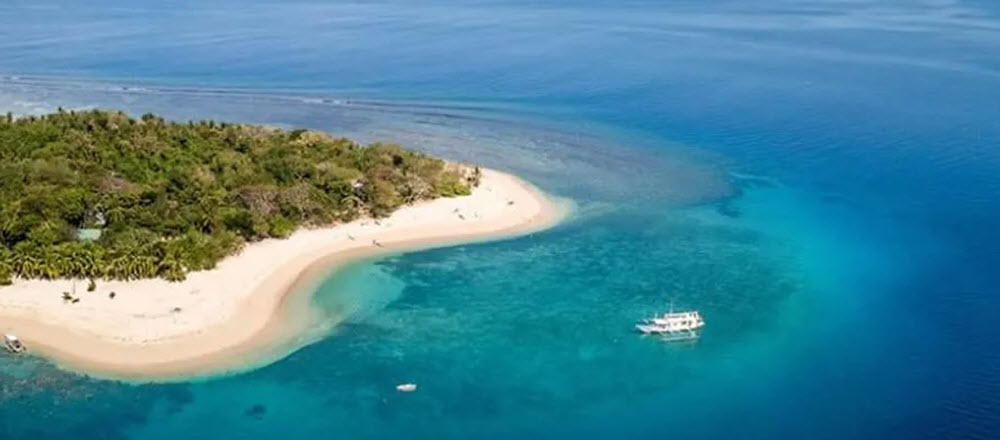 There are organized trips to the nearby Apo Reef. It is a forty square kilometre atoll that offers countless diving sites. There is a great chance to see sharks and other pelagic fish.
Another speciality organized by the diving centre on the island is a four to five-day safari to Busuanga (Coron) to dive among the Japanese wrecks from World War II.
Around Pandan Island are many different kinds of diving places.
House Reef – is suitable for beginners or as a warm-up dive. The depth lies between 2-18 meters. There are no strong currents there ever. There are plenty of coral fish. Nearby is LionFish Den which consists of a group of corals and rocks. Many lionfish hide there together with other fish species.
Coral Garden East – offers an easy but very beautiful dive. The depth is between 5-25 meters. It is a coral garden that mainly consists of hard corals.
Coral Garden West – is an area covered by both soft and hard corals. The depth is between 5-30 meters.
Neptune Land Depth – is a plateau that connects Napoleon's Wall and coral garden east. It is located at a depth between 18 – 30 meters. Turtles thrive here.
Corner – is a diving site on the southwest side of Pandan Island. It is a steep slope with a depth of 5 to 30 meters. On the slope are large rocks and canyons. There are many different corals and large sea fans that can grow up to two meters in diameter.
North Wall – is an interesting diving site that plunges 35 meters into the sea. There are not many fish species here but there are plenty of corals.
Gorgonian Drift – comes after the North Wall when it does not slope as much. There are stronger currents here. The depth is between 10 – 35 meters.
There are deep dives for the more experienced divers. They are best enjoyed with Nitrox.
Anchor – on an underwater slope that goes 32 meters down into the sea lays an anchor that is completely covered with coral. The anchor ended up there over 50 years ago.
North Wall – is suitable for doing more advanced dives here as well.
Barracuda Deep – is probably the most advanced dive that can be done around Pandan Island. The divers can go down 30-40 meters into the water. 30 meters down there is a wall facing the South China Sea. There are large shoals of trevallies, fusiliers, surgeonfish, Spanish mackerels and unicorn fish. There are Barracudas that can grow up to 1.5 meters long. The entire wall is covered with soft and hard corals and the Gorgonian corals can be incredibly big.