Balicasag Island is located in Panglao, Bohol Island, Phillippines.
A plateau that ranges from 6 to 18 meters stretches around the island before actually falling down against a wall, making it perfect for snorkelers to get a first glimpse of what to expect from the depths.
To experience a piece of the island paradise in Bohol you can get there by taking a flight to Tagbilaran. From Tagbilaran you can take a taxi to Alona Beach on Panglao Island. From Alona Beach you can now take a 30-45 minute boat ride to Balicasag Island.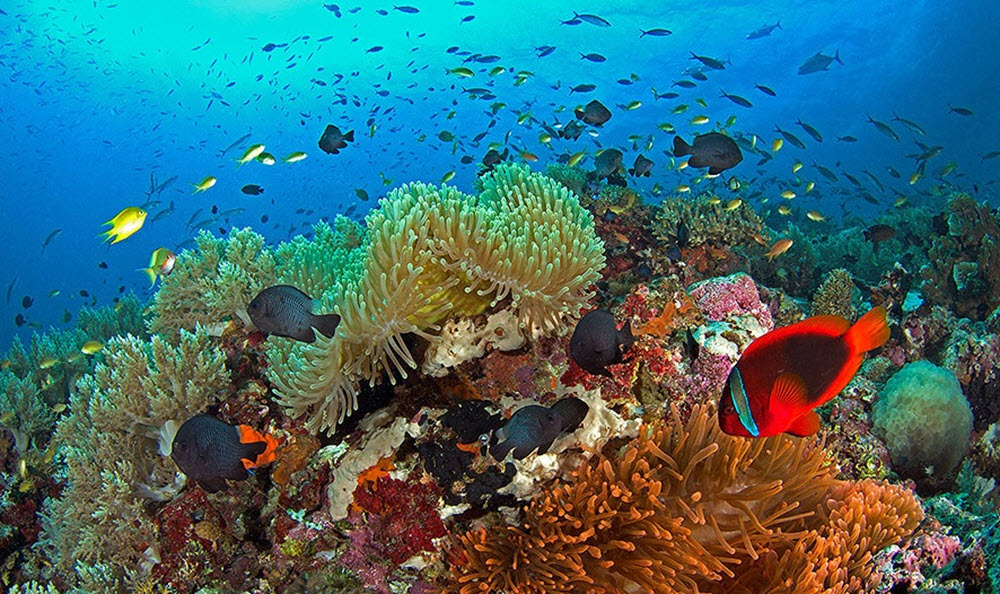 Balicasag Island has one of the best beaches in Bohol, its sparkling white sand and its abundance of marine life just off the coast.
There is snorkelling equipment for rent from one of the many shacks located along the beach. Get them when you arrive with the boat. You can rent a mask and snorkel for a smaller fee and then they will try to get you to pay extra for a guide which is not necessary. Just pay for your snorkeling kit and walk around to the opposite side of the island where there are fewer tourist boats.
The majority of tourists snorkel on the side of the island where all the boats are docked. But if you move away from that area and head to the other side of the island, it will be a calmer place to dive at.
In the water, it is common to find sea turtles just a few meters out in the water. If you don't see one, you will find them further out in the reefs. There are many colorful corals and countless fish species below the water surface.
Balicasag is an island that has become very popular due to its marine sanctuary where you can enjoy snorkeling and diving. Since 1989, Balicasag Island has developed into a resort called Balicasag Island Dive Resort.
It has also been declared a marine sanctuary under the President's Proclamation No. 1801, as it has an abundance of natural beauty, opportunities for water sports, tourism and conservation of marine life.
Before Balicasag Island became a famous tourist destination, the electric power would only be on for a couple of hours in the evening between 18 and 23. Now when it is a large tourist resort there is always electricity. At Balicasag there is a hotel, some local restaurants, an open public beach, a chapel and a lighthouse, despite the island's small size.
Balicasag Island Dive Resort, operated by the Philippine Tourism Authority, is the only resort on the 25-acre island.
It is a facility with affordable accommodation. They have air conditioning, nipa cottages with private bathrooms and verandas. There are also dormitories for those travelers who travel in groups or if you just want to get away even a little cheaper. The resort also offers a variety of water activities.
Balicasag is considered one of the best diving and snorkeling sites in Bohol given the fantastic Balicasag Reef and Balicasag Marine Reserve.
In the sea you will find moray eels, frogfish, parrotfish, different species of clownfish among different anemones and soft and hard corals, either on the plateau or its fall walls.